Perfume Bottles - Scott Bayless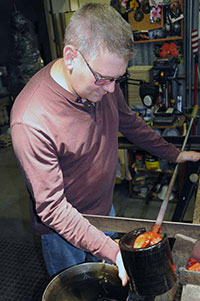 Scott Bayless began his career in art glass in 1996. His interest in glass developed at an early age with a visit to the Corning Glass Museum. He began his arts training as a film student at Ithaca College in New York and continued at Columbia College in Chicago.
In May of 1996 Scott came to Charles' shop to see if he needed any help. He was hired to work part time making pendants from broken pieces of glass. By January of 1997 Charles advanced Scott to work full time finishing glass. While working for Charles, Scott learned basic methods, often using his free time to stay late into the evening to hone his own craft. On Thanksgiving Day of 1999 Scott created his first Calla Lily paperweight which changed his world. Scott has since developed personalized techniques that make his original Calla Lily, Orchid, Rose, Columbine and Hibiscus floral designs beautiful and unique.
Today Scott is busy working for Lotton Studios creating beautiful works of art. His glass is in limited quantity, therefore usually needs to be ordered.